Here's the latest roundup of recent links, new publications, and news related to the New York School of poets. (For my most recent roundup, see here).
— Jeremy Noel-Tod reviews Karin Roffman's biography of John Ashbery's early years and reflects on his entire career in Prospect: for Noel-Tod, Roffman's book is "a fascinatingly detailed account of a childhood that was shadowed by loneliness and melancholy."
— In the Nation, Barry Schwabsky fills a large gap in the flood of commentary that followed Ashbery's death in September 2017 by focusing extensively on Ashbery's important and wonderful work as an art critic. "Everyone knows that the death of John Ashbery took away a great poet. Fewer people realize that we also lost an outstanding art critic," Schwabsky begins. In many of his works of art criticism, we can see the poet "working out the aesthetic principles that would both carry through his poetry and inform his appreciation of painting, drawing, and sculpture."
— Craig Burnett writes at Frieze about the beautiful new book of John Ashbery's collages: "They Knew What They Wanted, edited by Mark Polizzotti and out with Rizzoli this week, places a lifetime of John Ashbery's collages in conversation with his poems." For more on the book, see here.
— The poet Geoffrey G. O'Brien recently published an elegy for John Ashbery called "Irrealis."
— Eileen Myles is interviewed at Guernica by Carlie Fishgold.
— The terrific indie band Frankie Cosmos, led by the singer-songwriter Greta Kline, has a new album out, which means it's time for another round of articles that mention that she was inspired to adopt the name Frankie because her love for Frank O'Hara's poetry, which she counts as a major influence — like this one, in the New York Times: "The name Frankie Cosmos, which she's used since 2012, is in part a homage to one of her favorite poets, Frank O'Hara." (For previous coverage of Frankie Cosmos and O'Hara, see here).
— Katy Waldman's interesting piece in the New York Times about whether artists and writers with day jobs make better art discusses Frank O'Hara writing poems on his lunch break, alongside other examples, including William Carlos Williams and Wallace Stevens. ("Frank O'Hara's 1964 Lunch Poems, a set of imagistic, peripatetic musings on a city in motion, are beloved in part because they manage to articulate the balance of work and life. Written on his breaks, their title an invitation to us to read them on ours, the seemingly dashed-off lines celebrate the pleasure a mind can take in wandering through its own busyness").
— Alexandra Gold places Frank O'Hara in a transnational context and examines the little-discussed connections between Frank O'Hara and Aimé Césaire in an excellent article entitled "Frank O'Hara: Salute to the French Negro Poet, Aimé Césaire," which appeared recently in The Comparatist (probably only accessible with university account, but here's a link: https://muse.jhu.edu/article/675743).
— At Hyperallergic, John Yau reviews Charles North's new book, States of the Art, a collection of North's sharp and exhilarating critical prose, recently published by Pressed Wafer. ("This is criticism at its best … His essay on Frank O'Hara's relationship to the Russian experimental poet and playwright, Vladimir Mayakovsky, is brilliant, as is everything he says about Schuyler and his poems").
— At LitHub, Kevin Killian talks with Quinn Roberts about his career and memories of his experiences as a young writer. Here's a bit from the interview, where Killian recalls his early years in New York and some of the "proudest moments" in his long and distinguished career:
"When I got out of high school I thought of myself pretty much as a writer, and I went to school in New York, which brought to me the mysteries of contemporary poetry. Gay classmates brought me to the Continental Baths to see Bette Midler. We wore towels. On Washington Square Park another more hip student pointed out the stylish, messed up enigma that was Patti Smith—not yet a songwriter, but an electrifying presence on the street. I encountered Amiri Baraka and Ted Berrigan and Allen Ginsberg, Robbe-Grillet and Margaret Mead … I was proud when John Ashbery picked out my poem "Pasolini" for the very first edition of Best American Poetry. I was proud when the Spicer book that Peter Gizzi and I edited won the American Book Award."
— John Yau also reviews the new book by Douglas Crase, Lines from London Terrace, another excellent collection of a poet's essays published by Pressed Wafer. The book contains an amazing, previously uncollected essay on James Schuyler ("A Voice Like the Day") which has meant a lot to me, but has many other treasures as well. As Yau notes, "Crase has lots of intelligent things to say about the poems of Ashbery, Elizabeth Bishop, Robert Frost, Amy Gerstler, John Koethe, Lorine Niedecker, James Schuyler, and Marjorie Welish; the prose of Marianne Moore; the essays of Ralph Waldo Emerson; the garden of the painter Robert Dash; and the philosophy of Richard Poirier. There is a section on the origins of the New York School which every aspiring poet and budding critic should read."
— At the Los Angeles Review of Books, Brian Glavey talks with Andy Fitch about Frank O'Hara, John Ashbery, queer ekphrasis, and his terrific book The Wallflower Avant-Garde. Here's an excerpt in which Glavey discusses Ashbery:
Ashbery's poetry and criticism model one way of being in the world that negotiates these desires to attract, to get noticed, and to remain private. That tension runs throughout his entire career, with this constant trope of being present while remaining on the side of things. In terms of ekphrasis, this often means lingering around works of art without looking at them directly. Ashbery likes to engage with art as a kind of wallpaper, as something that might blend into the environment. I think this ambient aesthetic maybe helps explain the recent interest that has developed around Ashbery's house and the curios and bric-a-brac that he surrounded himself with. All of that is a version of what we see in his poetry, the way it connects with a desire to treasure and to feel attached to objects, but also to let them have their own privacy — by approaching them gently and not forcing them to divulge their secrets. Ashbery's poetry models that shyness, and is not at all naive about the coyness, the attractiveness that attaches to this gesture of withdrawal. It a gesture that says both "Don't come any closer," and "Pay close attention."
— For more on Glavey's book, see Benjamin Kahan's review of Wallflower Avant-Garde in the new issue of the Journal of Modern Literature, which concludes: "Glavey's writing sparkles with wit, and bubbles with intellectual pleasure. His book is a must read. The reader finishes it feeling that considerations of modernist and queer form and affect have achieved a new capaciousness"
— Also at the Los Angeles Review of Books, Margaret Ronda talks with Andy Fitch about her exciting-looking new book, Remainders: American Poetry at Nature's End. Among many other things, Ronda discusses her book's ecocritical discussion of John Ashbery, whose work, she argues, takes up
questions of epistemology and perception, in relation to various dimensions of ecological relationality and experience — all during an era, of course, when "the environmental crisis" gets named as such, and constantly gets discussed in the news media and mass-market books, and when a majority of Americans list environmental issues as one of their top national concerns. The first Earth Day takes place in 1970, a galvanizing moment for the American environmental movement. Ashbery writes against this backdrop of a very public, urgent conversation. He explores the vicissitudes of consciousness confronting ecological change and crisis.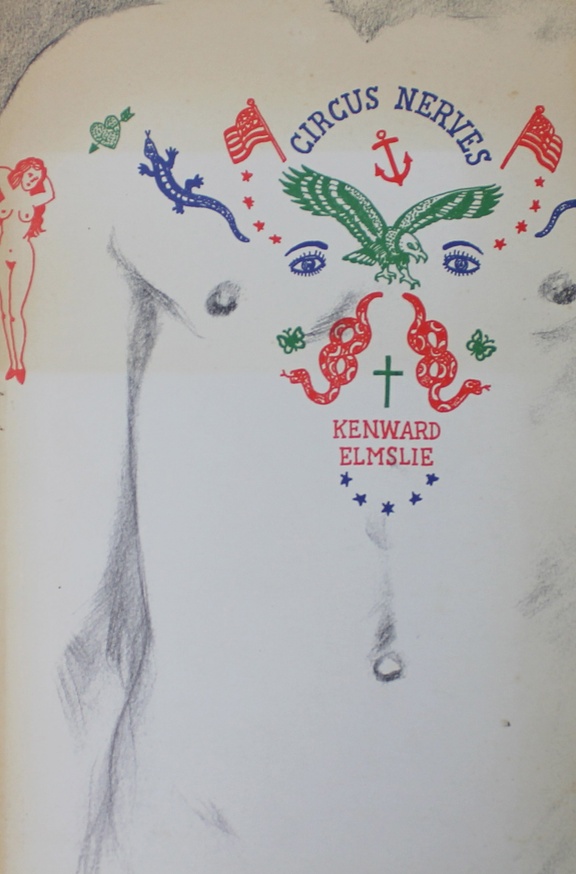 — On his blog Crystal Set, Nick Sturm offers an extended discussion of Kenward Elmslie's 1971 book Circus Nerves, tracing its "buoyant, charming, and powerfully weird lyrical gymnastics." Sturm includes an early review Ted Berrigan wrote about Elmslie's work, discusses the cover image by Joe Brainard (above), and generally offers a great introduction to the work of Kenward Elmslie, an important but under-recognized poet and mainstay of the New York School.
— At Full Stop, Jeff Alessandrelli writes about the similarities between Frank O'Hara and the rapper Notorious B.I.G.